I'm pleased to announce that I have been invited to be a Keynote speaker at the 8th Annual Sports Leadership Conference at the University of Notre Dame this June. My focus will be on "Parallels In Precision: Cracking the Code of Elite Performance."
Play Like a Champion Today is the world's only university-based (not-for-profit) initiative focused on promoting a positive sports culture for all young people.
The group works with coaches, parents, and administrators around the country to develop ethically responsible sports leaders and to promote character development through sports. In addition, they offer on-site clinics and workshops, online courses, and an annual Summer Leadership Conference at Notre Dame.
I want to tell you about a lecture that has changed my life.  Not one I heard, but one I gave. Give me a  moment to explain before you stop reading; I promise there's something in it for anyone who's seeking a path toward their Personal Legend.
I recently spoke at West Point to a sports psychology class. The topic was "Psychological Aspects of Elite Performance".  In the process of pulling together the talk, I learned a lot about myself and grew closer to my son. During the writing process and after presenting the talk, I felt inspired, energized and incredibly satisfied with results that extended far beyond the positive reaction of those cadets to the lecture.
Super Bowl 2013 is almost upon us, with all the hype and hoopla it entails. But I am not finished with the college football season yet. I have some real concerns about the overwhelming prominence of football – at the expense of academics – that seems to be present at major universities.
Don't get me wrong. I love college football.  My daughter attends the University of Notre Dame and I couldn't have been more pumped about the Fightin' Irish being ranked No. 1 and playing for a national title this last season.  The loss to Alabama in the BCS Championship was tough to swallow and eye-opening for me and many others.  Throw in the bizarre Manti Te'o girlfriend hoax and those of us who really care about college football were confused and saddened.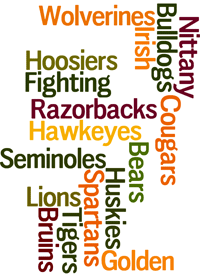 The Trick or Treating picture above, taken Halloween Night, 1970, depicts the author, an aspiring doctor, holding the iconic symbol of medicine, the stethoscope.  Invented by Laennec in 1816, the stethoscope represents one of the first great advances in the transformation of medicine from dogma to empiricism.  For the first time it allowed the physician to auscultate, to actually listen, to the heart, and other organs to determine if something was wrong.  Previously physicians relied on the old fashioned paradigm of diagnosing by history and observation alone.  At my side stands the ever present dedicated nurse, my sister, Edie.
Forty two years ago I knew I was going to be an American physician.  It is the only calling I've ever had.  Now, I am living my dream practicing medicine in the greatest health system the world has ever known.  Don't let our media fool you.  We do have the greatest healthcare system in the history of the world.  It may have some flaws and it may be too expensive, but it is, by a long shot, better than any other on the planet.  Talk to any medical professional who has traveled the world (not a politician, journalist or statistician- talk to someone else who has actually been in the trenches taking care of other human beings). They will tell you our hospitals and our caregivers are the best.