Do No Harm – From My Bookshelf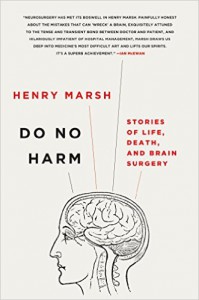 I recently read an outstanding book called Do No Harm, by Henry Marsh. The New York Times and The New Yorker gave it solid reviews, which it deserves. It's by an English neurosurgeon who chronicles his career experience, the highs and lows. I commend Dr. Marsh on his work. Many times I have struggled to articulate the trials and tribulations of learning to become and practicing as a neurosurgeon. As I read his book, I often thought to myself, "Wow, he really captures what I have been trying to share with loved ones and friends." So now instead of struggling to find the right words, the right stories, I can offer a copy of Do No Harm.
This book is about medicine and humanity. It is a portal to the neurosurgeon's experience. Here's Dr. Marsh's description of observing his first neurosurgery: "the operation involved the brain, the mysterious substrate of all thought and Pfizer viagra price feeling, of all that was important in human life — a mystery, it seemed to me, as great as the stars at night and the universe around us. The operation was elegant, delicate, dangerous and full of profound meaning. What could be finer, I thought, than to be a neurosurgeon?"
I'm pleased to announce that I have been invited to be a Keynote speaker at the 8th Annual Sports Leadership Conference at the University of Notre Dame this June. My focus will be on "Parallels In Precision: Cracking the Code of Elite Performance."
Play Like a Champion Today is the world's only university-based (not-for-profit) initiative focused on promoting a positive sports culture for all young people.
The group works with coaches, parents, and administrators around the country to develop ethically responsible sports leaders and to promote character development through sports. In addition, they offer on-site clinics and workshops, online courses, and an annual Summer Leadership Conference at Notre Dame.
I want to tell you about a lecture that has changed my life.  Not one I heard, but one I gave. Give me a  moment to explain before you stop reading; I promise there's something in it for anyone who's seeking a path toward their Personal Legend.
I recently spoke at West Point to a sports psychology class. The topic was "Psychological Aspects of Elite Performance".  In the process of pulling together the talk, I learned a lot about myself and grew closer to my son. During the writing process and after presenting the talk, I felt inspired, energized and Viagra without prescription incredibly satisfied with results that extended far beyond the positive reaction of those cadets to the lecture.
Super Bowl 2013 is almost upon us, with all the hype and hoopla it entails. But I am not finished with the college football season yet. I have some real concerns about the overwhelming prominence of football – at the expense of academics – that seems to be present at major universities.
Don't get me wrong. I love college football.  My daughter attends the University of Notre Dame and I couldn't have been more pumped about the Fightin' Irish being ranked No. 1 and playing for a national title this last season.  The loss to Alabama in the BCS Championship was tough to swallow and eye-opening for me and many others.  Throw in the bizarre Manti Te'o girlfriend hoax and those of us who really care about college football were confused and saddened.