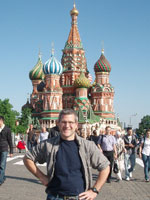 Today marks the one year anniversary of my trip to teach at the distinguished Burdenko Institute of Neurological Surgery in Moscow, Russia.  The trip provided an amazing opportunity for me to meet the brilliant and influential "Father of Russian Neurosurgery," Dr. Alexander Konovolov.  The visit also afforded me the chance to reconnect with my dear friends and colleagues from St. Petersburg.  I felt incredibly blessed.  Not only did I meet Dr. Konovalov and tour the institute he created, I did so alongside my mentor, Dr. Peter Jannetta.
The symposium felt like an induction ceremony for the international neurosurgical and orthopedic spine hall of fame.  The list was impressive, topped with the names Jannetta, Samii, Vaccaro, and Konovalov.  Imagine you grew up learning, loving, and following the game of baseball, and you were given the chance to play and coach at a hands-on clinic with the likes of Gehrig, Cobb, Mays, and Ruth.  I was inspired and humbled.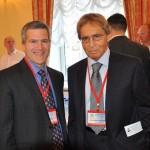 This gallery contains 3 photos.
Photos from Dr. McLaughlin's Moscow trip in 2010