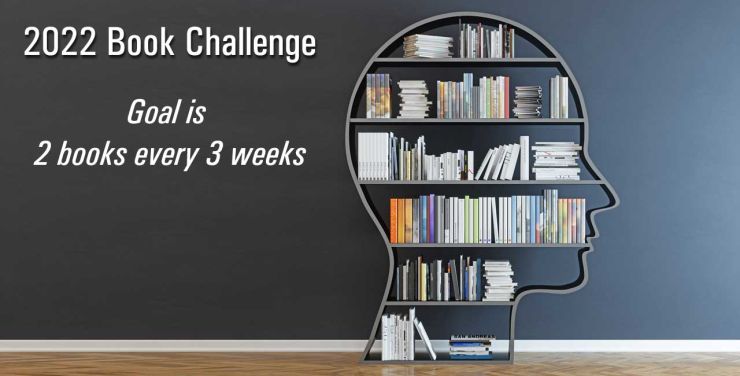 In 2021, I set a goal/challenge of reading two books a month. Happy to say that I achieved the goal. The top three books from the year were:
Cutting for Stone by Abraham Verghese
Slave and Sage by William Ferraiolo
Donnie Brasco by Joseph D. Pistone
Here's the complete list of the books I read in 2021.
1. The Power Broker – Robert Caro
2. Consilience – Edward O. William
3. Matterhorn- Karl Marlantes
4. For Whom the Bell Tolls – Ernest Hemingway
5. Fortitude – Dan Crenshaw
6. Nobody Wants to Read Your Shit – Steve Pressfield
7. Cutting for Stone – Abraham Verghese
8. A Made-To-Measure Life - Nick Hilton
9. Stillness is the Key – Ryan Holiday
10. Beyond Order: 12 More Rules for Life – Jordan B. Peterson
11. The Leader's Brain – Michael Platt
12. Who Moved My Cheese? – Spencer Johnson
13. Essentialism – Greg McKeown
14. Donnie Brasco – Joseph D. Pistone
15. The Immortal Irishman – Timothy Egan
16. First Man – James R. Hansen
17. The Singularity is Near – Raymond Kurzweil
18. Vigilance - Robert Jackson Bennett
19. The Last Night in Twisted River – John Irving
20. The Boy Who Would be King – Ryan Holiday
21. Gilgamesh – Paul Bracken
22. Four Thousand Weeks – Oliver Burkeman
23. Courage is Calling – Ryan Holiday
24. Trust Me I'm Lying – Ryan Holiday
25. The Obstacle is the Way – Ryan Holiday
26. Lead With Your Heart – Allan Hamilton
27. Paidi – Páidí Ó Sé
28. Meditations on Self Discipline and Failure – William Ferraiolo
29. Slave and Sage – William Ferraiolo
30. Meditations – Marcus Aurelius
31. The Beginning of Infinity – David Deutsch
32. Homo Deus – Yuval Harari
33. Fooled by Randomness – Nassim Taleb
For 2022, I'm raising the stakes and setting out a personal goal of reading 2 books every 3 weeks. That works out to 35 books for the year, so it's not a big increase, but I think it's important to stretch yourself. If you agree, I hope you will take up the challenge and set reading goals for yourself for the coming year.

Pardon the Interruption!
I would appreciate it, if you would sign up now to subscribe to my monthly Newsletter. Stay up-to-date as I discuss medicine, wrestling, personal growth, cognitive dominance, and other issues which intrigue me.
Warm Regards
Mark