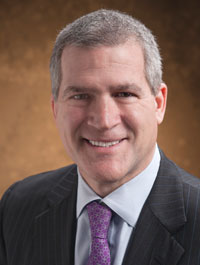 Mark McLaughlin, MD is a neurosurgeon on a mission to use the lessons he has learned in his career to help others courageously engage and wrestle with stress.
Not everyone can relate to neurosurgeons – but Dr. McLaughlin believes everyone can take the core principles behind brain surgery and apply them to any of life's problems. In his upcoming book, Cognitive Dominance: A Brain Surgeon's Quest to Outthink Fear, Dr. McLaughlin discusses the lessons he learned in the operating room and how they can be utilized in everyday life to think and act more effectively.
He is a board certified neurosurgeon, currently practicing neurological surgery with a focus on spine disorders and trigeminal and occipital neuralgia and chiari malformation surgery at Princeton Brain and Spine Care. He has published over 100 articles on neurosurgery and spoken internationally about his field.
A former NCAA Division I wrestler, Dr. McLaughlin was inducted into the National Wrestling Hall of Fame in 2016. He remains active in the wrestling world, coaching with the Princeton Wrestling Club. He also brought his nationally recognized coaching techniques to the inner city of Trenton, N.J., and cofounded Trenton Youth Wrestling, a program dedicated to serving boys and girls from first to eight grade. Through sharing his reflections on personal and professional life experiences, he aims to help others better understand themselves.
Dr. McLaughlin received his undergraduate degree in philosophy from the College of William & Mary. He graduated with his medical degree from Virginia Commonwealth University with Alpha Omega Alpha honors – equivalent of Phi Beta Kappa – and completed his residency in neurosurgery at the University of Pittsburgh under "the father of modern neurosurgery" Dr. Peter Jannetta. He then went on to complete a fellowship in complex spine surgery at Emory University in Atlanta, Georgia.
He has organized an international consultative link with Russian neurosurgeons with collaboration from the World Federation of Neurological Surgeons. He initiated the first ever Russian-American Spine Symposium in May 2000, in St. Petersburg, Russia.
Dr. McLaughlin also served as medical director for Princeton Brain and Spine from 2005 to 2015 before focusing in on teaching and inspiring others. He is a member of the Congress of Neurological Surgeons and American Association of Neurological Surgeons, and resides in Princeton, N.J.