Maggie E. Fitzpatrick, MS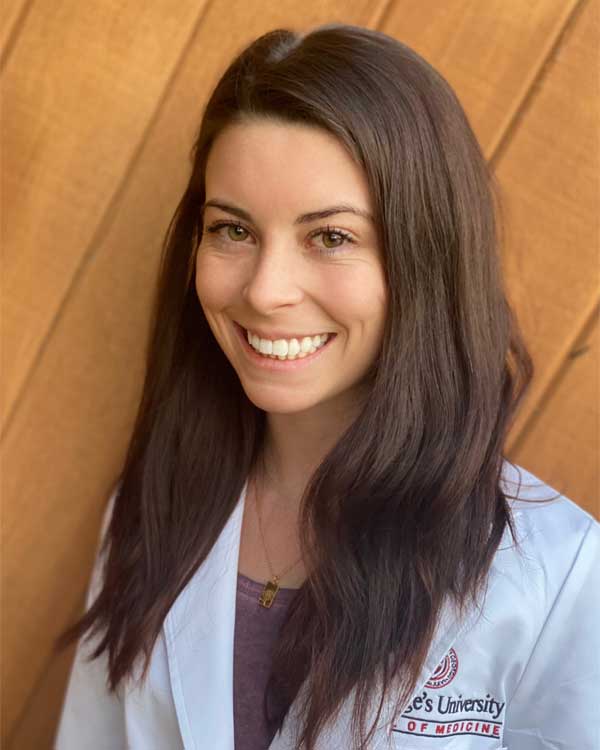 Maggie E. Fitzpatrick is a current medical student at St. George's University School of Medicine. She was born and raised in New Jersey near the Jersey Shore.
She received her bachelor's degree in exercise science with a pre-medical track from the University of South Carolina and remains passionate towards her Gamecock community. She went on to graduate school at New York University where she received her Master's in Clinical Research.
While at the University of South Carolina, Maggie developed a love for clinical research where she completed a semester-long grant funded project in the Speech Neuroscience Lab under Dr. Roozbeh Behroozmand. The research project used a novel neuroscience brain stimulation, High-definition transcranial direct current stimulation (HD-tDCS). Their efforts in the lab provided critical results that have led to further development of non-invasive treatments and therapies for Parkinson's patients. Maggie received a first place award at a conference amongst hundreds of participants and allowed Maggie to graduate with leadership distinction in a research track. Her success and passion during her time at the University of South Carolina led to her interest in obtaining her master's degree from NYU with a direct focus in clinical research.
The years between completing her master's degree and entering medical school, Maggie worked with Dr. Spero Theodorou and Dr. Christopher Chia at bodySCULPT in New York City, NY. Maggie played a role in a clinical research project using InMode's noninvasive body contouring techniques, Evoke and Evolve.
Maggie's journey into medicine began with an interest in physical therapy, however her pre-health track turned to pre-medical after her initial shadowing experience with Dr. McLaughlin. Maggie went from a shadow student to an employee of Princeton Brain & Spine Sports Medicine as a clinical assistant during her gap years prior to medical school. Her and Dr. McLaughlin quickly formed a close knit mentor-mentee relationship.
When the COVID-19 pandemic hit, Maggie saw a desperation from pre-health students for clinical experience, as she once was in their shoes. She and Dr. McLaughlin began hosting an accredited clinical case conference- NeuroRounds: Virtual Clinical Experience. This opportunity allows students and health care workers all over the globe to gain clinical experience just as they would if they could physically attend a meeting. Maggie attributes her aspiration of wanting to help and teach others to learning from Dr. McLaughlin, and only is getting started.
Maggie has a love for neurosciences, but is keeping an open mind for her future specialty in medicine. She wants to ensure that no matter what field she decides to go into, she always stays active in supporting and advocating for mental health awareness. She and Dr. McLaughlin are currently working on a case report manuscript to bring light to post-traumatic stress disorder in the midst of the COVID-19 pandemic.
Outside of medicine, Maggie was an avid soccer player and has trained grades K-12 in soccer for over 10 years with Thomas Denigris of Total Soccer Fitness & Training. Furthermore, Maggie has a strong love for running and completed the 2020 NYC Marathon which she describes as one of her most memorable athletic moments. Along with soccer and running, Maggie loves reading, fundraising, volunteering and spending time with her family. She hopes to serve as a comforting source for any pre-health student who may need advice on their career into medicine.
Connect With Maggie Fitzpatrick