Back to School, 30 Years Later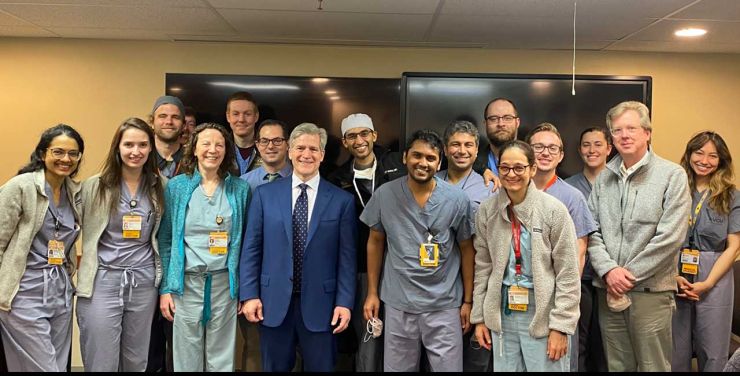 I recently attended the 30th reunion for my medical school class at Virginia Commonwealth University. The alumni association put together a two-day mini medical school, and I was eager to attend.
I've often thought that If I had the time, it would be really cool to go back and do the whole four years over again, then compare then and now. Is it still as difficult as I remember, or is it easier? It also occurred to me it would be great to invent an "updated module" for my brain. Most physicians try to be life-long learners who keep up with everything, but in many ways that is impossible. After 20 years in practice I feel I am at the top of my game surgically, but my font of knowledge is likely declining.

Anyway, here's what I learned at mini-medical school.
VCU is leading the medical world in pet therapy. It has a Center for Human-Animal Interaction, with therapy dogs on call! The dogs are available 24/7 — not only for patients in need of some love but also for staff. If you have a pet, you know how relaxing it feels to hold and stroke them. That wonderful reaction is actually a release of the feel-good hormone oxytocin. And VCU has proved through numerous scientific articles that petting a dog for five minutes lowers heart rate and blood pressure! To learn more human/animal interaction click here.

I attended an excellent session on delivering bad news. In my career I must do this a lot, and while I believe I have honed a good bedside manner, I know I can always improve. So I attended the talk and took lots of notes. Did you know that the VCU students have a class with real actors portraying patients with certain diagnoses? A student can try out a bad news delivery on the actor and get a critique and pointers from a theater professor. It's an effective way for students to improve their skills through simulated experiences. I never had this training; we just watched our professors do it in real life. I am glad that the students are getting more rigorous hands-on communications training in this area of medicine. If you're interested, I will be sharing my notes on Delivering Bad News in a future blog.

I also learned that there is a cadre of ER physicians at VCU who are advocating for and training students to use bedside ultrasound as a guidance technique to perform needle procedures on patients. This allows more precision and immediate verification that what was intended was actually achieved. Here's one specific example. Back in my training days, when we needed to put a large bore IV in a patient's jugular vein, we would place it using anatomical landmarks. Then we would check a chest X-ray to make sure the line was in proper position and verify that we did not nick the lung and cause a pneumothorax. Since the lower part of the jugular vein is near the top of the lung, a complication of this procedure was a punctured lung. After the line was placed, the patient would get a bedside chest X-ray. By using ultrasound to guide the needle into the vein the doctors can place the IV more accurately and they can simultaneously check to see if the lung is moving and not punctured. So not only is it more accurate, it also eliminates the need for the ionizing radiation from that X-ray. Pretty cool! Kudos to the team that's driving this initiative.

Lastly, there was a great seminar on physician burnout and rekindling our passion for medicine. As most of you know that has been a topic I am speaking about to hospitals and doctors all over the country. It's an increasing problem particularly after the COVID pandemic and a topic that needs serious attention. The crux of the problem lies in what Pamela Hartzband and Jerome Groopman say is "a profound lack of alignment between caregiver values and the reconfigured health care system." Read more about it here. I have two upcoming talks on this topic and was happy to get an update of the current literature. I'll keep you posted!
Would You Like to Know More About Delivering Bad News?
Pardon the Interruption!
I would appreciate it, if you would sign up now to subscribe to my monthly Newsletter. Stay up-to-date as I discuss medicine, wrestling, personal growth, cognitive dominance, and other issues which intrigue me.
Warm Regards
Mark