Level V Leadership in Coaching and Life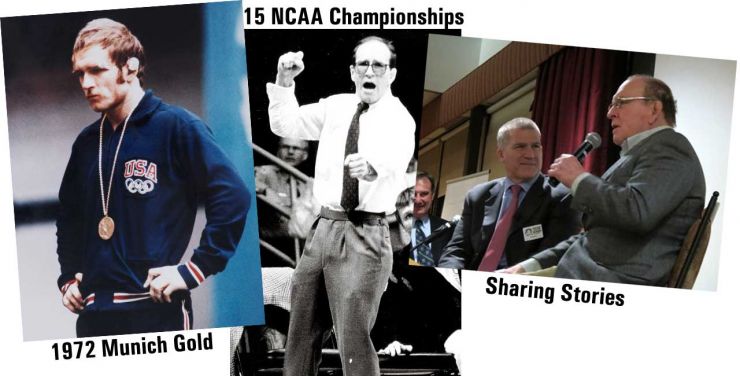 Wrestling is about to take to the mat at the Summer Olympics. If you compete in any sport, or just like seeing strategy at work, watch some of the matches. Before you do, though, let me provide some background about a world-class wrestler and coach I had the privilege of spending time with a few months ago. His name is Dan Gable.
If you are a wrestler, you will know the name. If not, he is worth getting to know. Gable was the most dominant American collegiate and Olympic wrestler ever. Forty-four years ago, on the way to winning the gold medal at the 1972 Olympic games in Munich, he didn't yield a single point in his matches despite competing with torn ligaments in his knee, seven stitches in his head from a bad cut, and a persistent ear injury. It is surely one of the greatest and most inspiring Olympic performances of all time. And it made an impression on this kid, glued to the TV set watching him in action.
In addition to his triumph at the Olympic Games, Gable amassed an incredible record as a college wrestler at Iowa State University: 117 wins and only 1 loss. In a Newark Star-Ledger article, columnist Mark Di Ionno wrote, "Gable almost went undefeated through college at Iowa State, until his last match, the NCAA final in 1970, with the eyes of the sports world on him. Gable talks about that 13-11 loss to Larry Owings more than any of his wins because it changed him from a 'pretty good wrestler into a great one.'"1
What did Gable learn from that loss? It was actually two major lessons that he carried through to his coaching career. He felt he wasn't protected by his coach, who didn't help teach him how to stay focused and how to ignore the distractions and circus atmosphere of a major sports event. Gable also learned another critical skill - not to get so focused on countering the opponent that he lost sight of his own moves.
When his wrestling days ended, Gable went on to become a legendary coach. He is often referred to as the "John Wooden of wrestling" ? a comparison with the legendary college basketball coach ? but Gable's coaching record is better than Wooden's. Wooden won 10 NCAA basketball championships at UCLA; Gable's Iowa Hawkeyes captured 15 NCAA wrestling crowns.
"I never measured an athlete by their accolades when they arrived on campus. I always measured success by what they achieved when they left the program and what they went on to do with their life."2
--Dan Gable
Lessons in Leadership
The 67-year-old Gable was the featured speaker at a Wrestlers In Business Network banquet in Princeton, NJ in April. The Network is a community of wrestlers who help each other in business and in life while supporting the sport that has played such an important role in every member's life.
As president of the organization's Princeton chapter, as well as a former collegiate wrestler and a current youth wrestling coach, I had the honor of picking him up at his hotel and escorting him to the event. Later that evening I interviewed Gable in a Charlie Rose-style format. More than 200 attendees, including high school and college wrestlers, wrestling coaches and former wrestlers now making their mark in the business world, were listening.
Since nearly everyone in the audience knew Gable's wrestling and coaching achievements as well as they knew their own, I wanted my dialogue with him to focus on a lesser known but just as integral part of his remarkable career ? his success as a leader. To put it in business terms, Gable was CEO of the most successful organization in the history of United States wrestling..., the University of Iowa team.
Gable is amazing and impressive in so many ways. He is not, however, someone who enjoys hearing himself talk. He's more about teaching by example, punctuated by quiet observations that encapsulate leadership. Gable knows how to lead because he knows how to listen. He also knows how to understand — and act on - what motivates his wrestlers.
In the interview, he was asked how he encouraged a wrestler after a devastating loss. His answer might be helpful to executives in the audience who had to inspire their staff after a tough business defeat. Gable's response focused on one main point ? he didn't treat all of his wrestlers the same. He said that since athletes have different personalities and skill sets, he would give one wrestler a hug or a pat on the back; for another, he would speak sternly and exhort him to do better; others responded best to technical assistance, such as a review of fundamental moves that would improve performance. It is essential, Gable said, to understand the personalities of everyone on your team and tailor your approach accordingly.
When Gable discussed how effective communication is essential, he illustrated the point with an anecdote about the current coaching staff at the University of Iowa. Recently, at the Olympic trials, Tony Ramos, a long time Iowa Hawkeye wrestler, was distracted by a coaching miscommunication and ultimately lost to another equally talented Iowa wrestler, Daniel Dennis — thereby losing his berth in the Olympics.
Ramos contends that coach Tom Brands promised he would be in Ramos' corner coaching him for this defining match of his career. But whether due to a misunderstanding or a coach's dueling loyalties to both Iowa wrestlers, Brands stood at matside balanced between the two wrestlers' corners. He apparently chose to coach neither wrestler. Ramos felt disappointed and betrayed by this choice. It has been speculated that this distraction may have contributed to his loss. Surely it was the reason that Ramos left the team shortly after.
The story illustrated Gable's point about clearly communicating corner coach assignments well before the heat of the battle in a well-planned, coordinated and transparent fashion. It appears that the current Iowa coaching staff has some homework to do to match Gable's communications standards.
Gable stressed to the group that you can't be successful in any leadership role without being an effective listener. During my time with him, I observed that he concentrated intently on every word I said. He asked questions and directly responded to me with a measured, precise choice of words. It's important to focus on the person you're speaking to, he emphasized, not just on yourself and the points you're making. Make others know they're being listened to and understood.
Level 5 Leadership
It's remarkable how closely Gable's leadership principles correspond with those discussed in the book Good to Great by Jim Collins. In the book, Collins examines what he calls "Level 5 Leadership"..., the five-level hierarchy of qualities that great leaders possess.
"Level 5 leaders embody a paradoxical mix of personal humility and professional will," Collins writes. "They are ambitious, to be sure, but ambitious first and foremost for the company, not themselves."3
Here are Collins' Level 5 Leadership principles paraphrased from his book:
Level 5 leaders channel their ego needs away from themselves and into the larger goal of building a great company. These leaders are incredibly ambitious, but their ambition is first and foremost for the institution, not themselves.
Level 5 leaders give others credit when things go well and take the blame when things go poorly. Less successful CEOs do the opposite - they look in the mirror to take credit for success, but look out the window to assign blame for disappointing results.
Level 5 leaders set up their successors for even greater success in the next generation, whereas egocentric leaders often set up their successors for failure.
A leader at this level displays a compelling modesty and is self-effacing and understated. In contrast, leaders with gargantuan personal egos often contribute to the demise or mediocrity of their companies.
Level 5 leaders are fanatically driven, infected with an incurable need to produce sustained results. They display a workmanlike diligence - more plow horse than show horse.3
How did Dan Gable Become a Level V Leader?
An article entitled "Why Wrestlers Make the Best Employees" ran in Forbes a few years ago, highlighting research that studied the performance of athletes in the workplace. It includes a comment by psychologist Richard Mendelson, a former collegiate wrestler and founder of Dynamic IO Consultants, a consulting firm specializing in human capital management. He says, "Wrestling, in particular, is thought to require more individual commitment than most other sports due to the nature of the training and competing itself. The logical inference, then, is that with other sports, an athlete can go to practice or a game, and then go home to relax. Wrestlers, due to the weight class requirements, have to maintain their focus and drive around the clock for years at a time."4
A Humble Hero
Despite his incredible achievements as a wrestler and a coach, Dan Gable consistently displays the modesty that is characteristic of a Level 5 leader. As I drove him through Princeton on the way to the banquet, I pointed out Albert Einstein's former house and Gable joked, "Even I know who Albert Einstein is." He spoke of traveling to Paris to compete in a wrestling tournament and when he returned home, he was asked if he visited the Eiffel Tower, the Louvre and the Champs-Elysees. "No, I saw only the sights that were important to me," he replied, "the gym, the weight room and the sauna."
As we watch the Olympics and marvel at the skill of the participants, think about Dan Gable. He learned his sport from his days as a young wrestler. He then translated his skills and insights into those of coach and leader. His greatest strength, I would argue, wasn't his astounding winning record. Instead it was his ability to transform college kids from different backgrounds and with different skill sets into the winningest collegiate sports team ever. He didn't achieve this through intimidation or anger but strong communication, understanding and leadership. You see, Gable didn't just want his teams to win in matches. He wanted them to win in life. And he prepared them well.
"Once you've wrestled, everything else in life is easy."2
-- Dan Gable
References
Di Ionno M. Old Warrior Brings Wisdom to New Fight. Newark Star-Ledger. 2016.
http://www.nj.com/news/index.ssf/2016/04/_di_ionno.html
Gable D. A Wrestling Life: The Inspiring Stories of Dan Gable. University of Iowa Press. 2015.
http://www.uiowapress.org/books/2015-spring/wrestling-life.htm
Collins J. Good to Great: Why Some Companies Make the Leap and Others Don' Harper Business. 2001.
https://www.harpercollins.com/9780066620992/good-to-great
Cooper S. Why Wrestlers Make the Best Employees. Forbes. 2012.
http://www.forbes.com/sites/stevecooper/2012/07/31/why-wrestlers-make-the-best-employees/#627a4427734a
Pardon the Interruption!
I would appreciate it, if you would sign up now to subscribe to my monthly Newsletter. Stay up-to-date as I discuss medicine, wrestling, personal growth, cognitive dominance, and other issues which intrigue me.
Warm Regards
Mark