Pat Summitt Basketball Coach Passes Away - A Tribute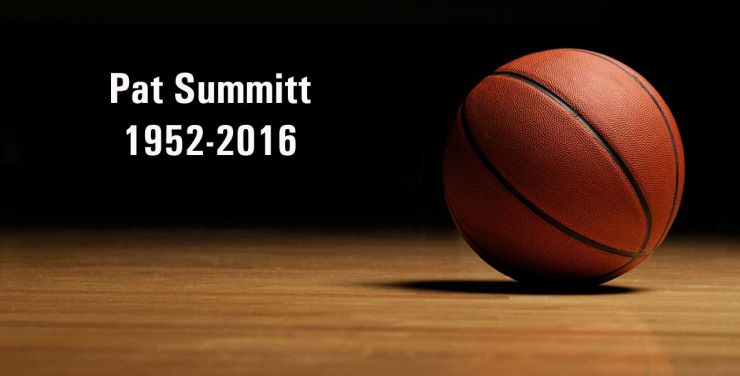 Legendary women's basketball coach Pat Summit passed away on June 28th, 2016 at the age of 64. Her final years were spent battling early onset dementia (Alzheimer's Disease). It's difficult to grasp the the depth of her impact on women's basketball and sports in general.
Coach Summitt coached her 1st game for the University of Tennessee in 1974. Over her career she had the most wins in NCAA history (1098), led the US Olympic team to Gold in 1984, and was recognized in the year 2000 as the Naismith Basketball Coach of the Century. She never had a losing season.
In 2012, she was awarded the Presidential Medal of Freedom.
There are few coaches today who do not look to the inspiration and leadership she brought to the court and to her players. Some of her memorable quotes include:
"Here's how I'm going to beat you. I'm going to outwork you. That's it. That's all there is to it."
"Attitude is a choice. Think positive thoughts daily. Believe in yourself."
"Admit to and make yourself accountable for mistakes. How can you improve if you're never wrong?"
"God doesn't take things away to be cruel. He takes things away to make room for other things. He takes things away to lighten us. He takes things away so we can fly."
Good bye Coach Summitt. You will be missed.
(The Pat Summitt Foundation supports Alzheimer's Disease Research.
Pardon the Interruption!
I would appreciate it, if you would sign up now to subscribe to my monthly Newsletter. Stay up-to-date as I discuss medicine, wrestling, personal growth, cognitive dominance, and other issues which intrigue me.
Warm Regards
Mark