The World Needs More Wrestlers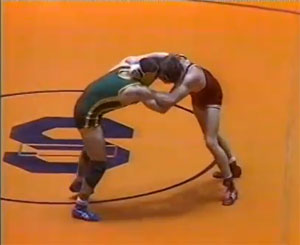 I'm honored to announce that I have been selected to be Grand Marshal at the 2015 NCAA Division I Wrestling Championships at the Scottrade Center in St. Louis, Missouri to be held on March 19-21, 2015.
It's a great honor to step out onto the same floor as these fine athletes. They represent what is best about Olympic sports. In the immortal words of legendary coach Dan Gable: "The world needs more wrestlers."
And yes..., the photo and the video are both of me wrestling in the 142 pound weight class for William & Mary in 1988. My, how the years have flown!
Pardon the Interruption!
I would appreciate it, if you would sign up now to subscribe to my monthly Newsletter. Stay up-to-date as I discuss medicine, wrestling, personal growth, cognitive dominance, and other issues which intrigue me.
Warm Regards
Mark