Fighting A Brain Tumor : Act 3 - When the End Comes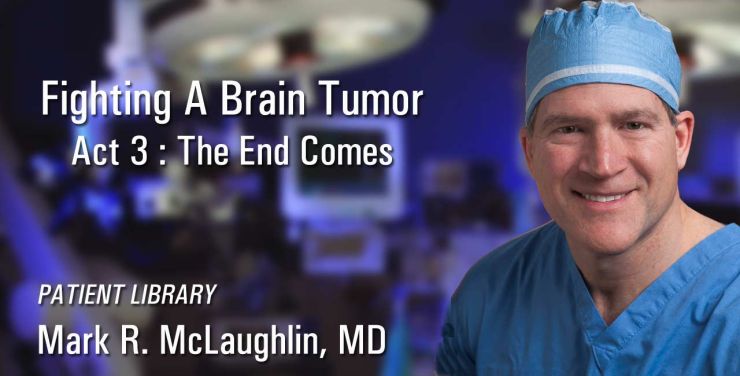 With Mark R. McLaughlin, MD, FACS, FAANS
Hesitant but curious, Ned asks his final question, "What if this were my wife? What happens if you do everything, but the treatment doesn't work? How is she going to die?"
That difficult question rarely surfaces earlier than Act III. But when the fight has been fought and the enemy reigns superior, the team yields and the toughest question of all must be faced.
I pause. It is a moment that will never be long enough to avert all the sadness about to unfold.
"Well, she'll probably just start slowing down," I explain. "Her stamina to do activities will decline and she'll spend a lot more time in bed. Sleep will start monopolizing more and more of her time, but when she's awake she'll probably be fairly lucid. It is unlikely she'll have any pain, so don't worry about that. Usually people dying of brain tumors don't have pain. And if she does we can alleviate any discomfort."
His eyes, still locked on mine, push me further on.
"When she starts sleeping most of the day, get the family around. It won't be long. In the end, she'll just go off to sleep and not wake up. That's it. That's how it will end."
It is a difficult role, but I wouldn't have it any other way. I need to create this script. I need to support my cast. I need to direct this scene. In the end, I take the best and the worst reviews and continue with optimism for the next scene. I hope and pray there will be an encore for every patient.
By now my friend Ned is quiet.
I tell him again, "So that is how I answer the question. And if I do it right, the patient and family know they have met with a professional. They walk out knowing we will fight like hell, that if there is any chance of surviving this, we're going to beat it. Most importantly, when they leave my office, they know they are not alone."