Our 4th edition of NeuroRounds happens September 7th at 7:00 AM EST.
NeuroRounds is an educational, medical webinar where neurosurgical cases will be presented, diagnostic imaging will be reviewed, and key facts will be discussed. Don't miss out on this engaging experience that will allow you to build your resume! Perfect for Med Students, Pre-Med, NP's, PA's, PA-C or anyone looking to improve their skillset. Join practicing Neurosurgeon Mark R. McLaughlin, MD, and first year med student Maggie Fitzpatrick for this unique opportunity.
NeuroRounds is ONLY available live. That's intentional. It is designed for the serious..., the people hungry for knowledge. If you would like an invitation to our next event, we recommend you join the Facebook group and follow along.
To join our Facebook Group, please start with the form below.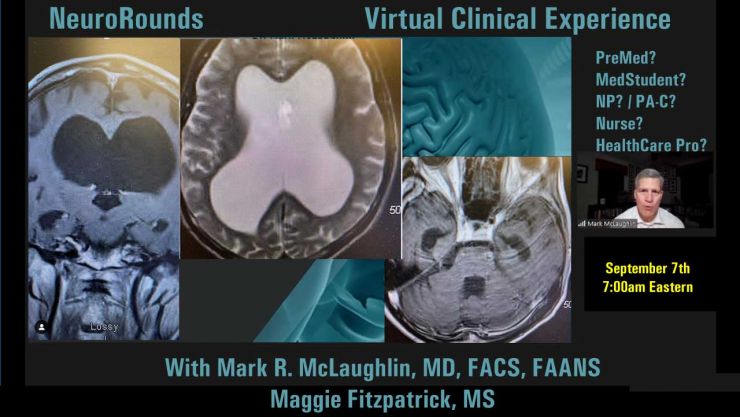 Yes! I would like to join the Facebook Group and receive notice of upcoming events.

Click the button ONCE... It may take a few seconds to process your request and direct you to the Facebook Group.
---